In:

Posted By:

webmaster

Comments:

0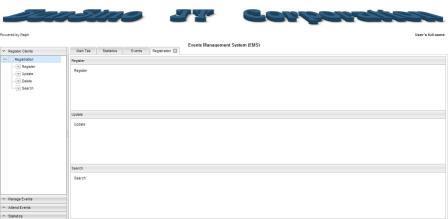 Events Management System (EMS) is a rich web application for efficiently managing any kind of events. The user can basically register clients, associate clients with events, and perform some various statistics for future improvement. It originally satisfies the business needs of Comergence by centralizing all organizations' events into one events management system accessible to each organization concurrently. Any organization can then log in EMS to collect statistical data on events organized by another organization. In the end, the benefits provided by the system is to reduce conflicting events, improve the business' scheduling, and allow events' attendance monitoring. It also increase managers' performance regarding available capacity fulfillment and clients' fidelity discount.
The design document of EMS (ems.pdf) includes all major software engineering life-cycle steps such as requirement elicitation, architectural style, testing and implementation, and quality assurance. It did not described the maintenance of the application and can be downloaded below. You will soon be able to try the web application on our dedicated Java servlet and JSP web container.
Any questions regarding this document should be addressed using the contact form in the "Contact Us" section and only critics and comments about the design documents and the application itself should be posted here.
English